You can set services to be unavailable to book on certain days of the week, to maximize your profits or to provide special services on specific days.
Select which days of the week a service can be booked
You can make a service unavailable for booking on specific days from the service settings, by navigating to Manage > Services, clicking the three dots beside the service name, and clicking Settings.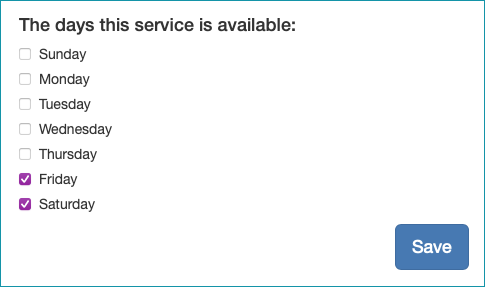 At the bottom of the settings page, you can uncheck days of the week under Days this service is available. The service will be available for booking only on the days that have a checkmark. Click Save to confirm your changes.
Require clients to call to make bookings
You could also set a service to be displayed on the booking widget with a message to call your shop's phone number. Clients won't be able to book this service themselves, but a shop admin can take bookings over the phone after an initial consultation. To display a message on a service to call the shop, turn on the checkmark for Not available for online booking.
Set a service to unavailable
You can make services inactive, so that they can't be booked, and then activate them again when needed. To activate or deactivate a service, navigate to the service settings and set the Status dropdown to Active or Inactive.
Alternatively, you can hide a service from the widget, so that clients can't book the service themselves, but an admin can still select the service when creating bookings on the schedule. To hide a service from clients only, turn on the checkmark for Hidden from clients in the service settings.