Resurva Admin Accounts have two levels of Permissions: All Access and Limited Access. 


All Access: The admin will have access to all the settings in the Resurva account, including the full Schedule, all client information and have the ability to cancel appointments, create appointments, change Provider settings etc. 
If you have more than one location, you can allow or restrict access to all locations.
In the example below, the Admin has All Access to all locations.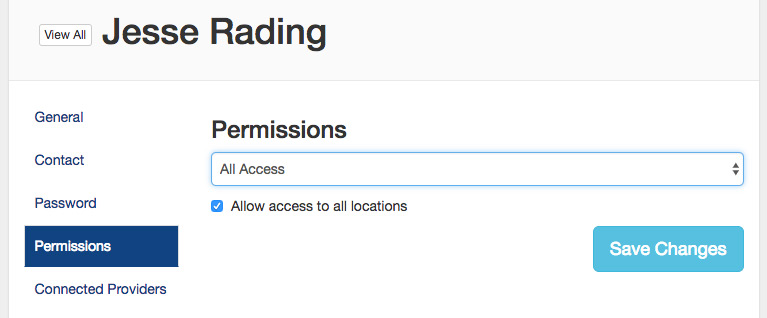 Limited Access: You can restrict access for admins by allowing certain settings or restricting others.
Allow access to all locations: If your admin only works at one location, uncheck this setting so access to all locations is limited.
Allow provider management: This setting will either allow or restrict the access to the connected provider' settings.
Disable Tap On/Off in schedule: This setting will enable or disable the Tap On/Off feature on the schedule.
Disable Daily Totals: Restrict or allow the Totals tab so no daily financial information is revealed.
Limit access to client information: If you would like to restrict access to client info, checking on this selection will remove any client info. 
In the example below, I have restricted access to all locations, denied provider management, enabled Tap On/Off, enabled Daily Totals and have enabled access to client information.