Appointments can be booked in Resurva with just a few clicks.
Open the booking page
You can get to a booking page from a Book Now button on a shop's page, or at their Resurva URL, which looks like: [Shop Name].resurva.com
If you can't find a booking page, you can email us at support@resurva.com with the name and location of the business, and we'll send you the link.
Set your appointment
You'll first choose a service and a day, then you can select your provider to see their available time slots. If you need to, you can go back to the previous step by clicking the arrows at the top of the widget.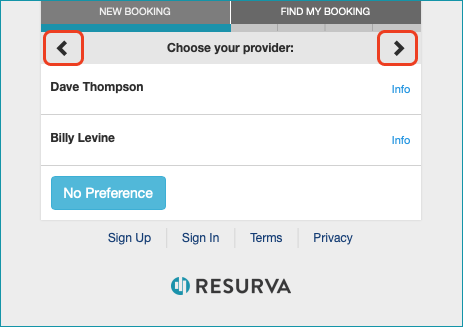 Sign in to your account
To finalize your appointment, you'll need to sign in to your account. If you don't have a Resurva account, you can create one by clicking I don't have a Resurva account, or you can sign in with a Facebook or Google account. For help creating an account, check out this article: How do I create an account?
Confirm and request your booking
Once you've signed in, you can review your contact information (this is how you'll be updated if there are changes to your appointment) and click Request Booking. In the popup that appears, you can set your booking notifications, then click Continue to finalize your booking.
Check your confirmation email
After requesting your appointment, you'll receive an email confirming your appointment details. If you haven't received your confirmation email after a few minutes, try searching your inbox for do_not_reply@resurva.com, as sometimes the email can be filtered into the Promotions or Junk folders.
You can also go back to the booking page and enter your email address under Find My Booking in the top right, and the confirmation email will be sent to you again.