If your favourite provider is fully booked, you may be able to join their wait list to be notified if a time slot opens up.
Join a waitlist
If a provider has a wait list, you'll see a Join Wait List button under their name on the provider selection page. When you click the button you'll be able to specify a time range.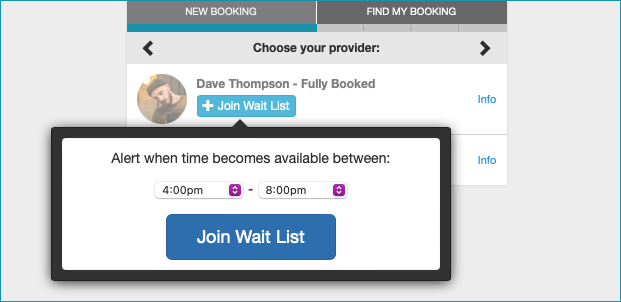 If a time slot within your time range becomes available, you'll receive an email with a link to book an appointment.
Wait list opening notification
When you receive an email about a wait list opening, it'll contain a link to book your appointment. If the time slot is still available when you click the link, you'll be able to confirm the details and book your appointment.
If you can't find a time slot
Wait lists are first come, first served, and on busy days they can fill up quickly. If you received an email about a wait list opening, but don't see an open time slot when you click the booking link, this means the time slot was taken by the time you checked it.