There are two quick ways to view your bookings in Resurva.
Sign into the booking page
You can see all of your upcoming and past bookings by signing into the booking page. First, go to the page of the business where you normally book, and sign in using the link at the bottom of the widget.
Once you're signed in to your Resurva account, you can click on your name in the top right of the page, and click Your Bookings. Upcoming bookings will be shown with an option to cancel the appointment, and you can view past bookings by clicking the Past tab.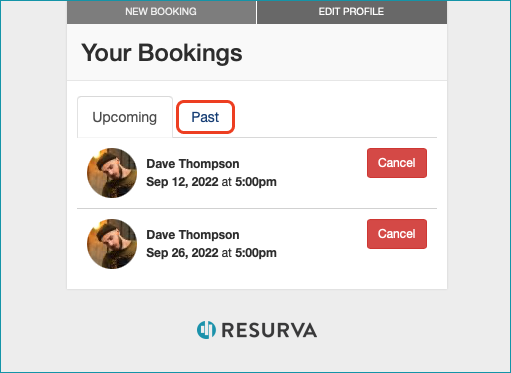 Confirm your next booking
When you make a booking, you'll receive a confirmation email with your booking details - you can search your inbox for the keyword "Resurva" if you need to find the email again later. If you can't find the confirmation email, you can have it emailed to you again, by clicking Find My Booking at the top right of the booking page and entering your email address.
If you can't find your booking
You may have made your booking by logging in with a Facebook or Google account, and later logged in with an email and password. These accounts aren't tied together in Resurva, so you won't be able to see the bookings you made on your other account. You can sign into your other account to view or cancel your booking.