Set up service options in Resurva to allow your clients to upgrade services, tip online, and purchase products, all while booking their appointment.
What are service options?
Service options can be anything your clients might want to pay for at your shop, that isn't necessarily a service. Service options can be upgrades to a service, like a hot towel shave or a massage, or they can be products or merchandise sold at your shop. You can even set them up as tipping options for clients who pay in advance.
Create service options
To add a new service option, navigate to Manage > Service Options. Click New Service Option Type in the top right, and enter a name. Your clients will see this name when adding service options to their booking, so it should be descriptive (for example, "Hot towel shave" instead of "Service option 1").
Set service option duration and cost
If a service option will add time to an appointment, enter how long it takes to finish the service option under Duration. The duration will be added to the total length of the service, so a 1-hour service with a 15-minute service option will take up 1 hour and 15 minutes on your schedule.
If a service option will increase the cost of an appointment, enter the price of the service option under Cost, and the price will be included in the total service cost.
Service options can have a duration and/or a cost, or neither. A service option with no duration or cost could be, for example, free merchandise, or accessibility options for a client.
Enable service options for services and providers
After you create a service option, it'll appear on the list. Click on the service option in the list to select the services and providers it'll be available for, then click on the service option name, or on a different service option, to save your changes.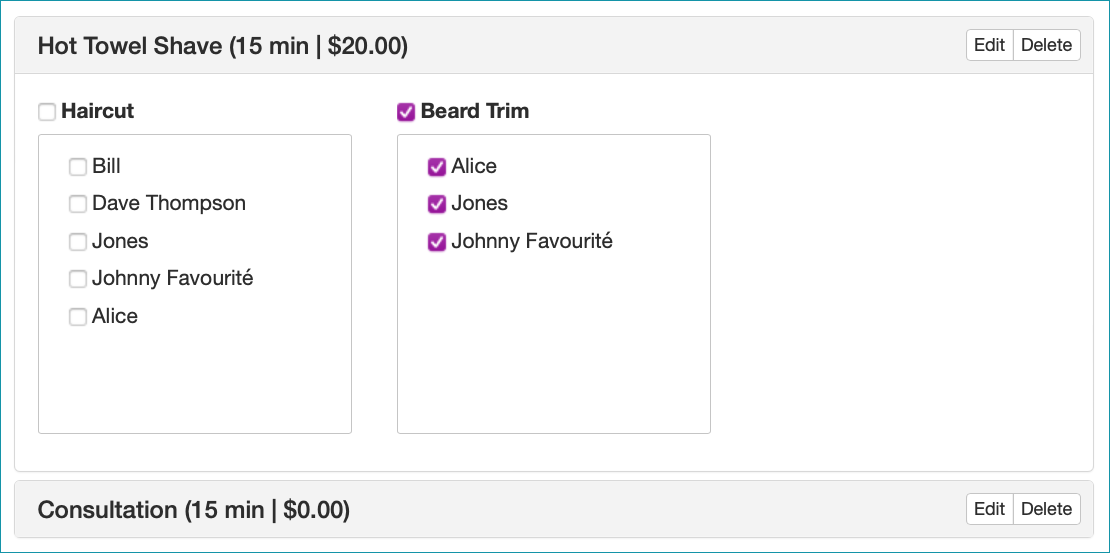 Edit or delete service options
To edit a service option, find the option in the list and click the Edit button on the right. Update the information and click Update to save, or Close to cancel editing without saving.
To delete a service option, click the Delete button on the right, and click Yes to confirm. Note - this action can't be undone.
Accept tips online with service options
If you've set up online payments, you can use service options to offer a way for clients to tip for a service in advance, by offering different tip amounts like $3, $5, and $10, as service options on each of your services.
Offer free accessibility options
Another great use for service options is to offer free accessibility options in your shop, so all of your clients feel cared for. For example, a client may need a ramp set up before their appointment, or they may want to request a lower noise level to feel more comfortable, and you can offer these accommodations as different service options with the cost and duration set to zero.