Resurva can help you avoid cancellations and no shows by requiring appointment deposits to confirm a booking. Your clients would pay for a portion of their appointment when booking, and pay for the rest at the end of their appointment.
Set up online payments
Before you can require appointment deposits, you first need to connect a Stripe or Square account and configure your settings. Read more about setting up online payments in this article: Accept online payments.
Set a deposit amount
After you've connected a Stripe or Square account, you can set up appointment deposits by going to Settings > App Settings > Payments in the Resurva dashboard. You can set the deposit amount by changing the Percentage Required value in the blue box. The Tax Rate should be the same as your local sales tax.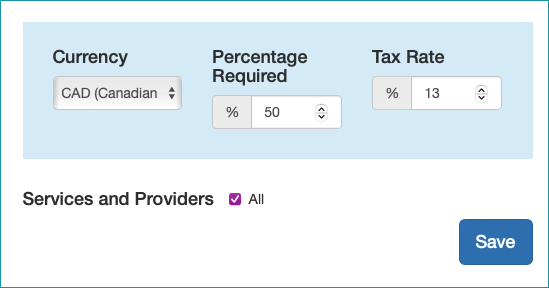 If the Percentage Required value is less than 100%, your clients will pay the specified percentage of the full service cost while booking online, and the rest in store.

When a deposit has been paid for a booking, you'll see a label the booking in the calendar to let you know how much has been paid.
Optional or required appointment deposits
You can set appointment deposits to be required for all clients, optional for all clients, or required for specific clients that you manually select. To require deposits from all clients, enable Require payment from everyone.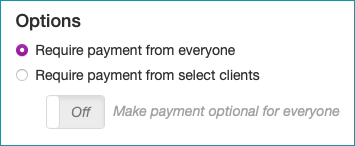 To allow optional online deposits, enable Require payments from select clients, and turn on Make payment optional for everyone.
Require deposits from specific clients
To reduce no shows, you can set deposits to be required only for clients who have missed an appointment in the past, while the rest of your clients can pay in store. To read more about requiring payments from specific clients, check out this support article: Require online payments from no show clients.
More options to avoid no shows & cancellations
You can also set up cancellation protection, so your clients are only charged if they miss an appointment or cancel late. To learn more about cancellation protection, check out this guide: Set up cancellation protection.
Need help?
If you have any questions or need help setting up online payments, please reach out to us by email at support@resurva.com, or by sending in a support ticket here: Submit a request.