Personalize your booking widget to suit your business by adding an image and a tagline, and managing different widget settings.
Manage the address displayed on the widget
The address you set for the shop will be displayed on the booking widget under your image and tagline, and clients can click the address to open a Google Maps link for directions. You can edit your address by navigating to Settings > Location Information.
Display an image and tagline
You can display a logo or full size image on the booking widget, with a tagline underneath, which could be any short message you'd like to share with your clients, or directions to the location.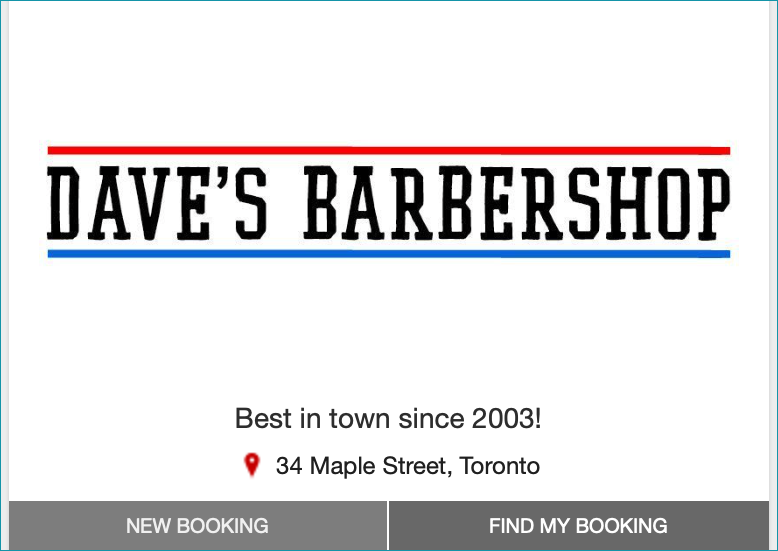 To add an image and tagline, navigate to Settings > Logo & Branding. You can display a small logo by uploading an image under Icon, or a full size image by uploading a Header Image (but you can't display both an icon and a header image at the same time). After uploading an image and setting a Tagline, click Save to confirm your changes.

Manage services on the widget
You can decide which services have their costs displayed on the widget, or even hide service costs and durations from the booking widget. You could also sort and organize services displayed on the widget, and allow clients to select multiple services in one booking.
Manage providers on the widget
Provider selection can be required or optional, so that a client can select "no preference" instead of choosing a provider. You can also disable provider selection altogether, or set up each provider with a direct booking link, so that only a specific provider's services and availabilities are shown on the widget.
Manage time slot selection on the widget
You can manage how the schedule looks to clients, to display a list of your first available openings or allow clients to see the full schedule, so that it's easier for them to book their preferred time slot.