Create repeating bookings for your regular customers, so they don't need to go through the booking process each time.
Create a series booking
To create a repeating booking, find one of the client's existing bookings in the schedule, click on the time slot, and click Actions > Create Series.
Set the booking frequency at the top: to create a booking that repeats every 3 weeks, for example, set the frequency to Repeat every 21 days. Use the date picker to select how long to repeat the booking, then click Create to book the series.
Manage a series booking
To cancel an individual booking in a series, click on the booking time slot and click the red Cancel button.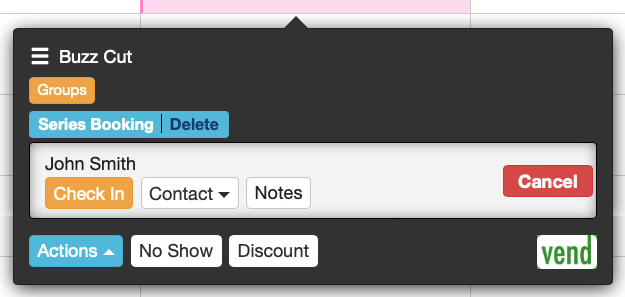 To cancel all the bookings in a series, click on any booking in the series, and click Delete beside the blue Series Booking indicator.
Duplicate a booking one time
To repeat a booking just once, click Rebook at the top of the schedule and select the booking you'd like to duplicate.
Then, navigate to the correct day (if necessary) and click on the time slot you'd like to copy the booking to. By default, the client will receive an email notification for their new booking, but you can disable this notification by turning the Email toggle to Off. Click Continue to confirm the new booking.