Fine-tune your costs to match demand by offering services at different prices, depending on the day of the week.
How does it work?
To set custom provider costs for specific days on the week, you'd set up two versions of the same provider, and set their weekly availability so that they don't overlap. For example, you could set up a provider named "Jimmy" that's available Monday - Friday, and another provider named "Jimmy (weekend)" that's available on Saturdays and Sundays only.
Clients who select a booking date from Monday - Friday would be able to book with the regular provider, while clients who select a weekend date would be able to book the weekend provider only, and would be charged the custom service cost: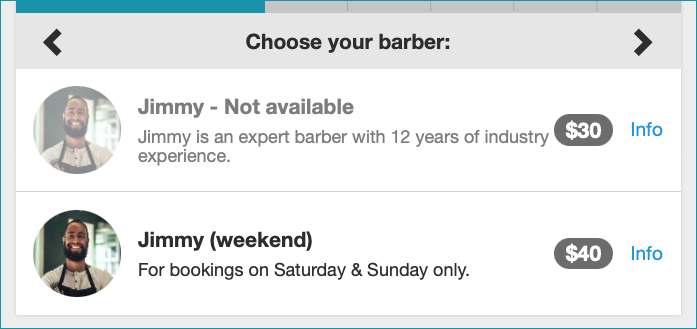 You could also create an after hours provider with custom costs, or set up a specific service with a custom cost on certain days of the week.
Set up custom provider costs for specific days of the week
Navigate to Manage > Providers and click Add Another. Enter the name of the provider and click Save. It's a good idea to include something in the provider name to differentiate both providers, for example, if your regular provider is named "Jimmy", you could name the new provider "Jimmy (Mondays only)". You can also set a bio for the provider to mention their availability, which will show up under their name - to do this, click the three dots beside the provider's name and click Settings, then enter a message under Bio and click Save.

Next, set the custom costs for the new provider's services by clicking the three dots beside their name and clicking Manage Services (if you're already in the provider's settings page, select the Services Offered tab from the left column). Click Customize beside a service to set the provider's custom cost for that service. You can also click the Delete button beside any service that won't be offered during the days the new provider is bookable - for example, if you normally offer haircuts and beard trims, but you only want a weekend provider to offer haircuts, you'd remove the beard trim service from the weekend provider's list.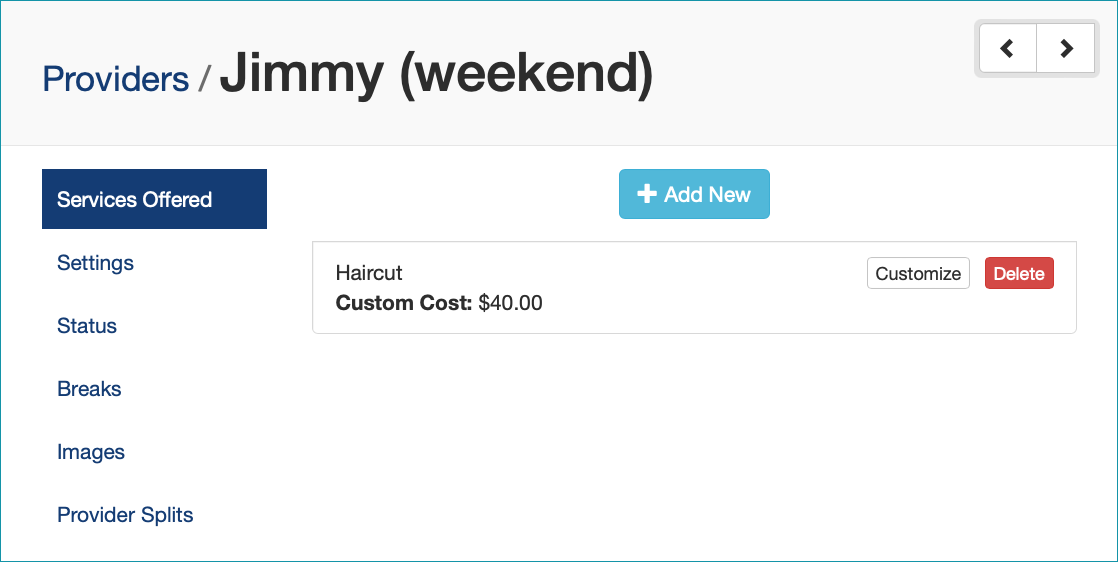 Lastly, navigate to Manage > Schedules to update the availability for both versions of the provider. You'll want to set the availability for the new provider, and turn off those same days in the weekly schedule for the original provider. In other words, if the new provider will be available on weekends only, the original provider should only be available on Monday - Friday.