You can customize how clients view the schedule to make it easier for them to book.
Display a list of the next available time slots
You can display a list of next openings after a client chooses a service, so that they can easily see which spots are available. If a client wants to choose a specific day, they can click View Calendar to select a date. This list can't be enabled at the same time as multiple service selection.
To display this list on your booking widget, navigate to Settings > App Settings > Bookings and set the dropdown for Show the next openings for clients to Enabled. You can display a message above the list by entering text in the box labeled Show a message at the top of the next openings list. Click Save to confirm your changes.
Allow clients to select a provider first
By default, clients on the booking widget will see your list of services first, and they'll see the provider list after selecting a service. You can create direct booking links for each provider, which would filter the booking widget to only show a specific provider. You can then share these direct booking links however you'd like - for example, you could set up a "Providers" section on your website, so that clients can see a list of your providers first, and select which one they'd like to book with before selecting a service.
Let clients view the full schedule
If you turn on private bookings, you can also allow clients to view the full schedule after they sign in, and they'd be able to click on an open time slot to select a service and finalize their booking.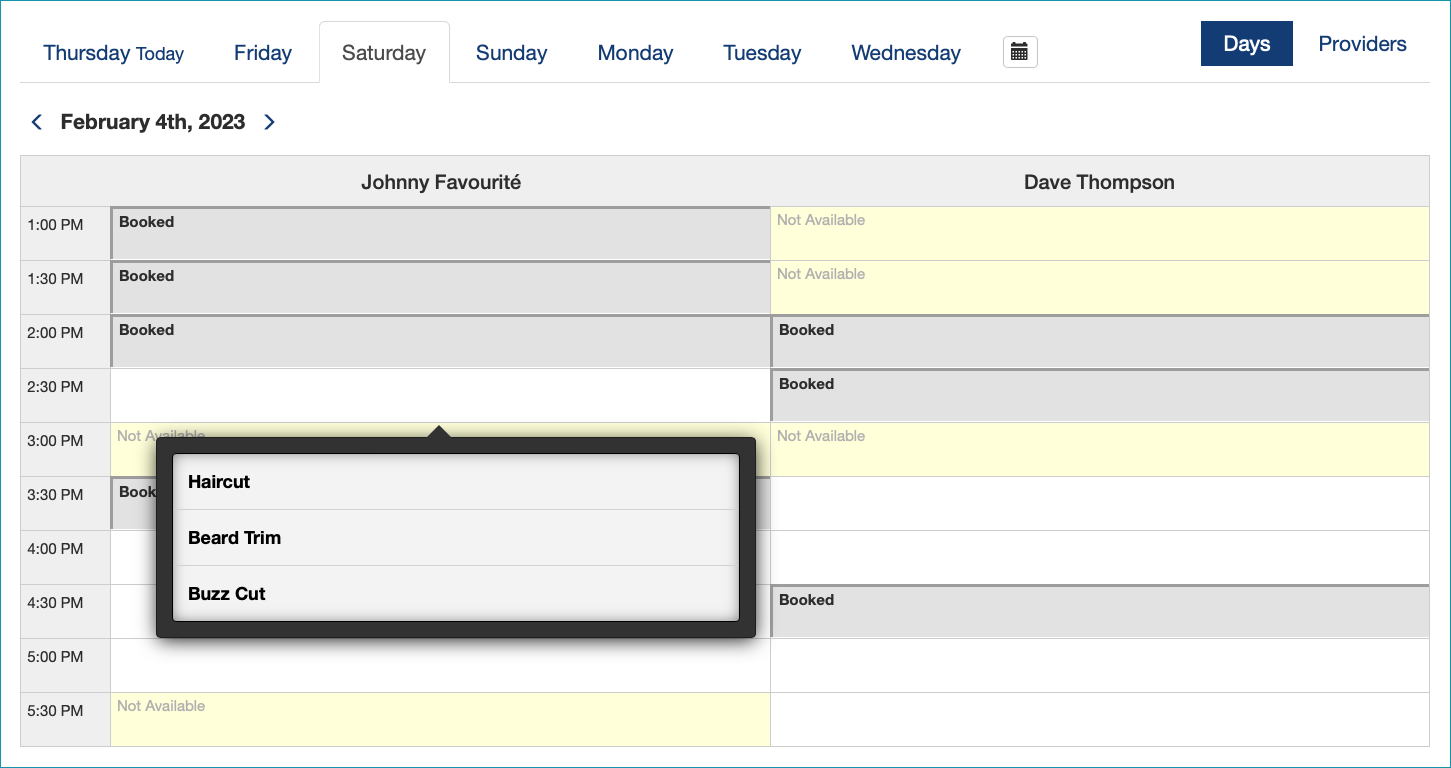 To enable the full schedule view for clients, navigate to Settings > App Settings > Private Booking and turn on the checkmark for Private Bookings Only, so that clients are required to log in to their accounts to make bookings.
You can turn on the checkmarks for Allow new users and Allow social login, so that if a client doesn't have an account, they can create one to access the booking widget. If you don't want to accept bookings from new clients who aren't already on your client list, you can leave these two checkmarks turned off.
Next, turn on the checkmark for Allow logged in clients to view full schedule and click Save.
Customize the booking widget appearance
You can personalize your widget with an image and a tagline or short message that suits your shop. If you want to allow clients to book without selecting a specific provider, you can display a "No Preference" button on the provider selection step. You could also choose to hide service costs and durations, so that they aren't shown to clients when booking.
Change the starting day of the week
By default, when clients are selecting a booking date on the browser, the weeks on the calendar will start on Sundays. You can change the starting day of the week by navigating to Settings > App Settings > Bookings and selecting a new day under Booking form first day.