Welcome to Resurva!
We've created this guide to walk you through the setup process, so you can get up and running in no time. We're always here to help if you get stuck or have any questions, just send us an email at support@resurva.com or submit a request here.
Getting started: Create an account
The first step to getting set up is to sign up for a trial. You don't need a credit card to sign up, and you'll be able to use Resurva for the first 60 days for free, so you can get to know the service risk-free. Once you've created an account, you'll be guided through the basic steps to set up your booking widget.
If you're switching to Resurva from a different service, check out this guide for some steps you can take to ensure a seamless transition: Switch to Resurva from a different booking service.
Step 1: Set your location and time settings
Enter the location of your business, and set a default time slot length for the schedule. Your default time slot length, in the first dropdown, should be set to the length of your most common service. The second dropdown determines the first day of the week for the calendar that's shown to clients.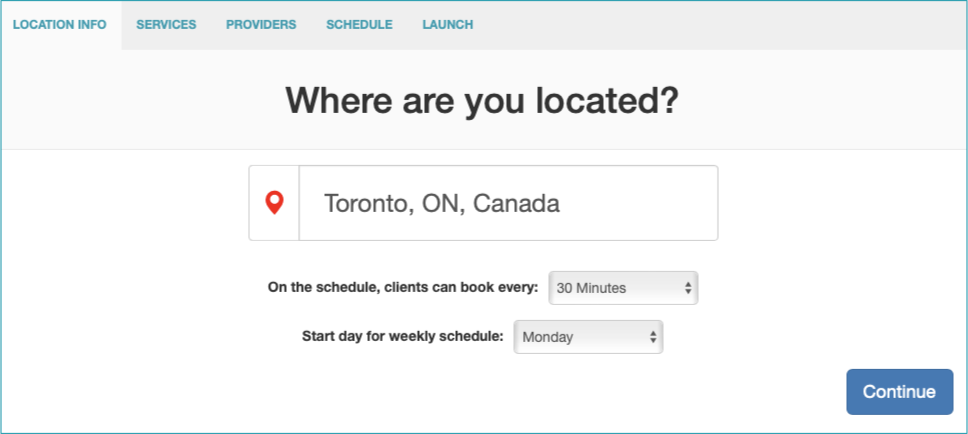 When you're finished making changes, click Continue - you can always change these later by navigating to Settings > App Settings > Time Settings.
Step 2: Add services
Now you can set up the services that your business offers - enter a service name, and set the service cost and duration. If you don't want the service cost shown to clients, you can set the Default Cost to zero. You can also set the service Duration to zero, and clients will be able to select how long their booking will last (this is useful for room bookings or other services that don't have a set duration). Click the Save button beside the service name to confirm the details, and click Add Another to create more services.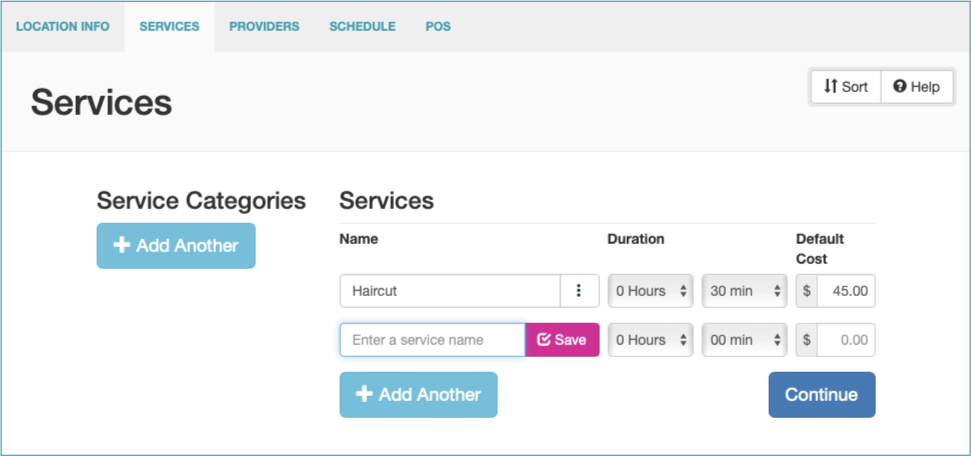 If your shop offers a lot of services, you can sort them by clicking the Sort button in the top right. You can also organize your services into categories by clicking the Add Another button in the left column under Service Categories.
Step 3: Add providers
Next, add a provider by entering their name in the text box and clicking Save. Later, you can edit each provider's services and custom availability, and set them up to manage their own bookings - for now, you can enter your providers' names and click Continue to proceed with setting up a default schedule.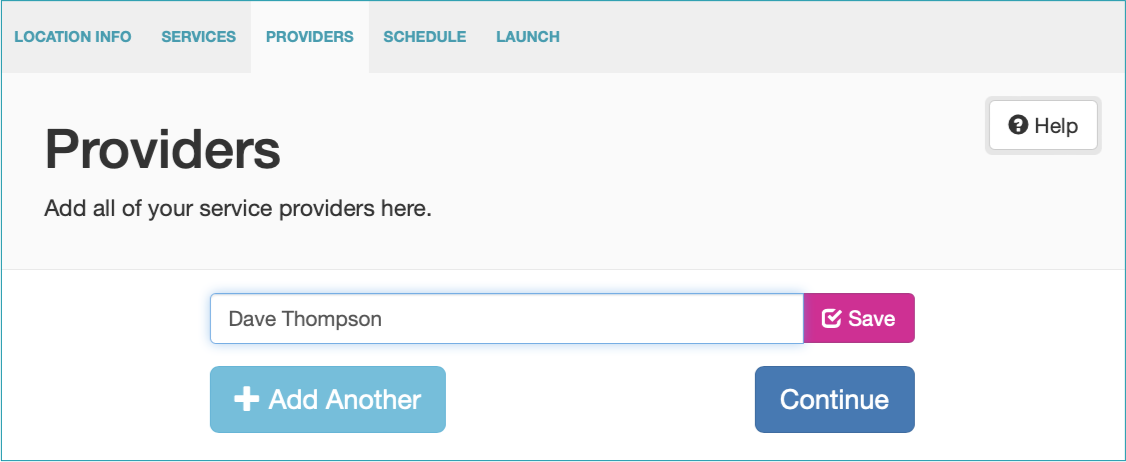 Step 4: Set your schedule
The last step before you can launch your booking page is to set your business hours. Beside General Hours, turn on the checkboxes for each day of the week that your business is open, and use the dropdowns to set your opening and closing hours for each day.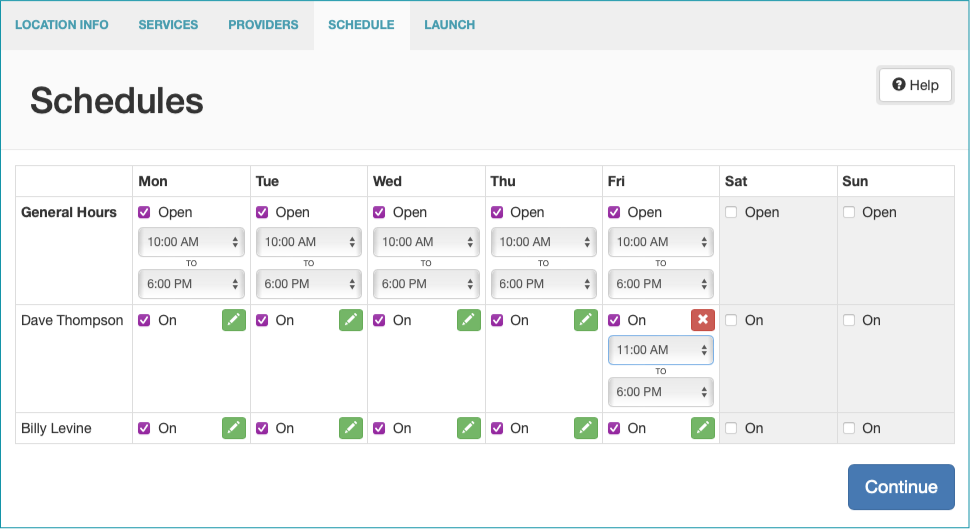 Then, set each provider's weekly schedule by turning on the checkmark beside their name, for each day of the week that they'll be working. If a provider's hours are different than the General Hours, click the green pencil to edit their hours for that day of the week. To reset a provider's hours back to the default, click the red x. You can make a one-time change to the schedule by navigating to that day on the dashboard calendar and clicking Edit Day. When you're finished making changes, click Continue to complete the setup.
Next steps & best practices
Congratulations! You're all set to start taking bookings, and you can click the Go Online button to set your booking widget to online. You'll see your booking link on this page, and you can share or post it on your website, social media, or share it in an email newsletter to your clients. If you want to make more changes before going live, click Go to the Schedule. When you're ready to go online you can click the Offline indicator in the top right, then click Turn booking online.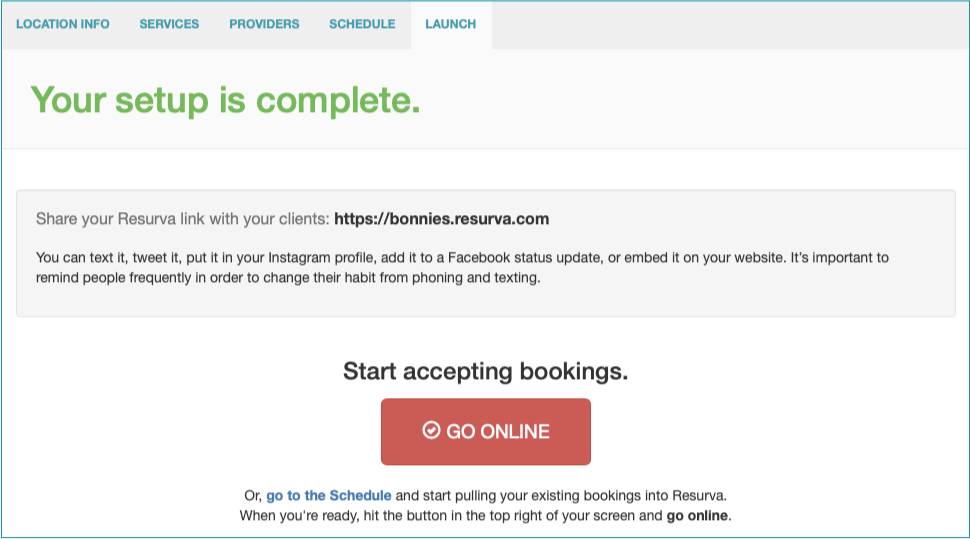 We've compiled a list of some advanced features and settings you can customize to take your setup to the next level - check it out in this article: Next steps and best practices.